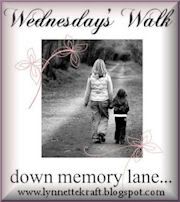 This is only my 2nd week of participation in Wednesday's Walk from
Lynnnette Kraft.
After you read through and look through my walk down memory lane, why don't you head on over to her blog and read the memories that others are sharing this week?
Last Tuesday, I shared the story of the son that I had at 17 and gave up for adoption. I finally had the courage to dig these photos out and share them. Please forgive the quality as they are pictures OF pictures. I will tell you now that going through these photos enabled me to just breathe a little bit.
The adoptive parents holding their newborn. They were able to give him his first bottle feeding.
The newborn baby lying on a blnket my grandmother had made him.
My friends and my mother with Baby P.
Christmas time with the new family
Easter time on the blanket that my grandmother sent him